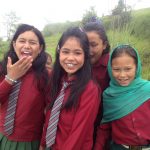 Manjali from Chaughare
In late 2013, Manjali, a teenage girl from Chaughare, was diagnosed with a life-threatening heart condition. The only option was an extremely risky surgical procedure, which was enabled thanks to funds were raised by the Sangha globally. Sangha members also donated blood and formed a team to counsel and support her and her parents over the course of the event.
Kanchi Maya Tamang from Chaughare
In February 2014, Kanchi Maya Tamang, an elderly lady, was found to require immediate heart surgery. A donation drive was initiated to enable the same. Unfortunately, despite the efforts of her doctors, she did not survive.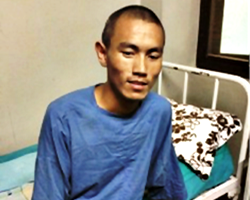 Lama Kunga Tempa
Lama Kunga Tempa from Charang Village, Mustang in January 2015, funds were raised by sangha members for a teenager from Charang village, Mustang, in need of urgent medical intervention. One of his kidneys was seriously damaged and infected due to the presence of a kidney stone. To compound the issue, both his parents were physically disabled and were unable to help him.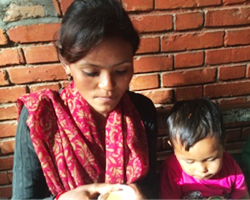 Suntali Tamang
Suntali Tamang from Chaughare Suntali is a young woman in her early twenties. She suffered from a serious heart problem that required urgent intervention, but could not afford the same. The Sangha raised funds for the procedure, which was conducted successfully.
Natural Disaster Support
Byoma Kusuma Earthquake Relief Fund
In April 2015 a devastating series of earthquakes shook Nepal and left many in need of aid and assistance. A global fund raising drive was initiated and a team of volunteers formed locally to help victims whohad lost their homes, family members, and their livelihoods. Distribution of aid — including food, medicines, and tarpaulins — was carried out in areas badly affected by the earthquake, while therapy was offered to those traumatized by the tremors. In addition, a 24 hour chanting of the Prajnaparamaita Heart Sutra and a global chanting of obstacle removing prayers were organized.
Blanket Distribution
Every year millions of people across Nepal's southern plains are severely affected by a cold wave. Scores of people freeze to death and hundreds die as a result of preventable diseases such as pneumonia and viral influenza.
The Sangha works with Nyano Sansar — an organization devoted to aiding the affected in these areas — to provide relief and support during these cold waves. Sangha members have sourced and distributed over 5000 blankets and 15,000 items of clothing in 50 Village Development Committees (VDCs) across 8 districts. In addition, free medical camps and awareness programmes have been organized and conducted along with the distribution of blankets and clothes.
Other Voluntary Activities
Byoma Kusuma Earthquake Relief Fund
Every year the Sangha releases Birds and fishes in honour of the Vidyadhara Ratnashree's Birthday. In 2016, Jetsunma Neeru initiated a programme to release and save one million fishes in the Naryani River. The Sangha successfully raised funds globally to help this noble initiative.
Blanket Distribution
Sangha members participated in a campaign to restore the Vajrayogini statue in Sitapaila after the devastating Earthquake of April 2015.